Learn about the events AngloServicios participated in during May - June 2022.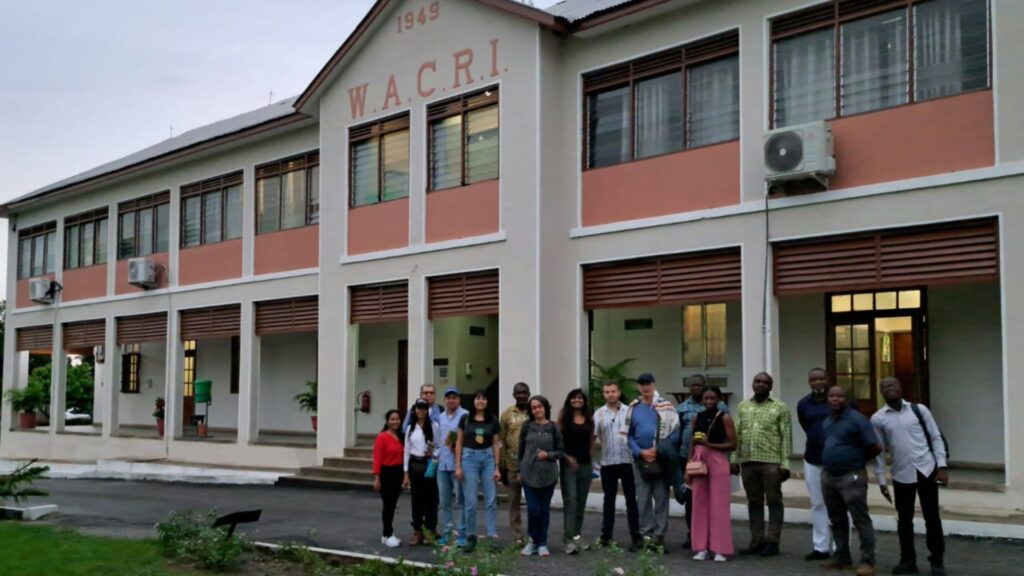 Our expertise in offering simultaneous interpretation services has earned us the trust of numerous institutions around the world. We have successfully worked for institutions in Colombia, the United States, Canada, Panama, Mexico, Barbados, the United Kingdom, Israel, Germany, Switzerland, Sweden, Netherlands, and Denmark, among others.
The following are some of the most recent remarkable events.
International exchange of experiences in cashew nut cultivation between Colombia and Ghana
As part of the South-South Cooperation talks and the Cooperation Strategy with Africa, interpreters from AngloServicios traveled to Ghana with a group of Colombian farmers to help them share their experiences on cashew cultivation, processing, and marketing with their Ghanaian counterparts. The meeting was held from June 10 to 15 and covered topics such as grafting, good harvesting practices, post-harvest procedures, and cashew processing.
AngloServicios' simultaneous English<>Spanish interpretation was instrumental to the success of the meeting. During the trip, relevant information was discussed with the farmers, and we collaborated closely with the Ghanaian officials to ensure that everything was conveyed clearly. It was an experience we will never forget!
FSC – First session of the FSC Global Dialogue among Chambers
The Forest Stewardship Council (FSC), an entity that certifies forest management with more than 25 years of experience and presence in 47 countries, is responsible for promoting an environmentally, socially, and economically viable management of the world's forests.
During the FSC Global Dialogue among Chambers, members from different countries meet to discuss the entity's policy and statutory motions, present suggestions and strengthen integration. AngloServicios regularly works with FSC in remote simultaneous interpretation in English and French, so we were invited to lend our expertise in both languages during the session.
GGGI – Regional Consultation on the Carbon Transaction Platform
On June 8, we worked with the Colombian headquarters of the Global Green Growth Institute (GGGI) during the discussion on the status of the carbon transaction platform, providing our English<>Spanish remote simultaneous interpretation services.
GGGI's job is to foster sustainable economic growth in emerging countries through intergovernmental treaties. Helping them achieve this is something we are very proud of.
FAO – RedParques Amazon Vision Working Group
In order to move towards greater integration and conservation of biological diversity in Latin America and the Caribbean, the Food and Agriculture Organization of the United Nations (FAO) conducted a working group on May 31, in which it presented the progress made by RedParques and French Guiana regarding Natural Protected Areas matters.
AngloServicios participated in this online meeting through our remote simultaneous interpretation service in English, Spanish, and French. Our efforts helped the voices of 14 Latin American countries to be understood.
Environmental Law Institute – Symposium on the Law for Security and Sustainable Development within the framework of the UN Stockholm+50 Meeting.
The Environmental Law Institute's (ELI) mission is to foster innovative, just, and practical law solutions to enable leaders of all countries to make environmental, economic, and social progress.
The Symposium on the Law for Security Law and Sustainable Development, held on May 30 as part of the celebration of the 50th anniversary of the Stockholm Agreement, was an opportunity to reflect on the latest advancements in law for security and sustainable development and to plan a route to attain a more just society.
AngloServicios' simultaneous interpretation helped participants connect with the audience, clear up doubts, and get to know new opinions.
Would you like to have AngloServicios' remote or on-site simultaneous interpretation services at your event? You can contact us!